Asian culture is certainly full of many diverse types of ceremony and celebration. From roka and chunni engagement ceremonies to lavish weddings, birthdays and anniversary celebrations, there always seem to be events that need planning almost all the time.
Of course, as you would expect, nearly all these Asian celebrations have a strong traditional base, a way of enjoying the festivities that brings family and community close together in harmony.
Here are just some of our favourite events and occasions that mean you might need to hire some asian caterers for these events.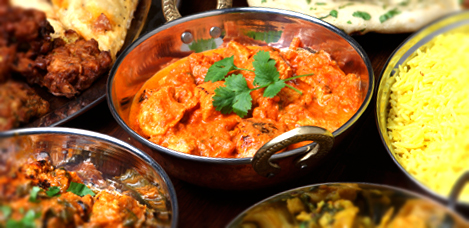 Roka
The initial recognition of the engagement of a couple, these are simple pre-wedding events attended by close family which allows the soon to be married couple to officially begin courting.
Chunni
This is the official engagement of a couple where the man goes to visit the home of his wife-to-be, taking gifts such as fruit and sweets. The girl is given a red outfit and brought out to the guests and the beginning the wedding period is announced. In India, there are some variations to this ceremony such as the bride putting an engagement ring on her loved one's finger.
Maiya Ceremony
This takes place a couple of times in the days leading up to a Punjabi wedding and is one of the most complex in the Asian wedding tradition with both the bride and groom painted with a natural skin purifier called vatna. There are many different rites involved including sangeet, jago and mendhi.
Ladies' Sangeet
This is common in Sikh celebrations the events are held by the family of the bride to which a few select members of the groom's family are also invited. Monetary gifts are given to the bride, bright colours are worn and there is a lot of singing. It's a bit like the wedding shower for Western couples but with a lot more tradition attached.
Jago
An exciting and memorable ceremony, this is usually carried out late in the evening when the nankai family arrive, singing and dancing, carrying a traditional water vessel decorated with candles. Neighbours are also invited to participate in these events which are held a couple of days before the wedding.
The Wedding Day
Probably the biggest celebration of them all, you'll need a great looking mandap and some brilliant food and plenty of sustenance for your guests. Creating memorable wedding events takes a lot of work as most families will tell you but it's all worth the effort. Various regions have diverse ways to celebrate but the upshot is a day full of vitality, fun and excitement.
Indian Birthdays and Anniversaries
As with any Indian celebration, birthdays have a good deal of tradition attached to them and can involve lavish affairs with food catering brought in from an outside service. Popular curry dishes are biryani and dudh pak, to name just a few. Wedding anniversaries can also be exciting and busy celebrations with plenty of eating, talking and dancing to go around.
Of course, food is a big part of Indian culture and finding someone to do the catering for any big event is important. From curries and drinks to sweets and special creations such as cakes, there are plenty of Indian and Asian caterers out there who can help your celebration exceed expectations.
If you want to find the best event and party caterers in your area then download our Asian Directory in a mobile app or browse our website today. You'll have all the contacts you need right at your fingertips.