Easily find on your mobile local Asian Wedding Venues Reception Halls Banqueting Catering with Asian Directory App
Things to consider when choosing the best Asian wedding venues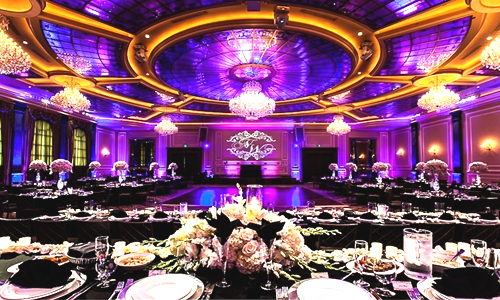 Your wedding day is one of the most important days of your life. With this in mind, it's no surprise that many people want every last aspect of their day to be absolutely perfect.
From choosing the perfect dress to finding the perfect venue and venue dressers, planning your wedding day is an exciting time.
And the good news is that there are a whole host of fantastic Asian wedding venues offering plenty of choice, diversity, and space.
But of course, there's plenty to consider when it comes to choosing the perfect Asian wedding venue. So we've created a list of things you should think about before choosing a venue that will accommodate both the needs of your guests and theme of your wedding.
Pick a venue that will accommodate every cultural ritual of your big day
Asian weddings are always a big affair because they mark two families coming together. Of course, the wedding will also usually honour a number of age-old traditions that are an important part of your Asian culture.
As a result, when you're picking a suitable venue, it's definitely worthwhile looking for a venue that understands the significance and importance of Asian traditions and rituals. Extended family will play a huge part in your day so it's important that your venue understands that many of the key decisions regarding your wedding day will be made (or influenced!) by family members.
Always follow your heart
When it comes to choosing a venue for your wedding day, always remember that you are never going to please everyone and everyone will have different tastes and opinions about how you should celebrate your special day
With this in mind, always go with what fits in with your vision of how you want your big day to be.
In fact, many modern Asian couples are now starting to step away from traditional rituals, in order to do their own thing and mark the relevance of their day in their own way. However, that's not to say that you shouldn't incorporate traditional values and traditions into your day.
Visit different venues before making a final decision
There are a whole host of fantastic Asian wedding venues dotted in and around the UK. And, when it comes to picking out a venue that accommodates all aspects of your day, we'd definitely recommend visiting a number of different venues so that you can gage what you like and don't like.
Catering
When you're choosing a suitable venue, it's important that you inquire whether or not the venue you choose is able to accommodate your catering needs.
If you are planning an Asian wedding, you will most likely want to use an authentic Asian Caterer. Of course, the majority of prestigious venues will be able to recommend the very best caterers in the industry, so it's definitely worth asking.
---
Tips and Tricks for Picking your Asian Wedding Venue
An Asian wedding can be an elegant and extravagant affair. However, what makes the wedding that extra special is the venue. With various ceremonies and rituals taking place before, during and after the wedding, it's important to find a wedding venue that ticks all the boxes and that is perfect for the bride and groom's special day.
Here are a few tips and tricks to help ensure you find the perfect venue for your wedding day.
Determine your needs
Before booking any venue viewings it is important to establish exactly what you are looking for. How many people do you intend to invite? What is the best location for the wedding venue? What is your budget? Have you settled on a date? Answering these questions will allow you to determine the kind of venues that you are looking for and discard the venues that don't quite hit the mark.
Establish a guest list
Before you book your venue it's important to talk about and establish how many guests you expect on the day of the wedding. This important detail will help you in your quest of finding a wedding venue. If you are having a big wedding, it's vital that your venue is spacious enough to accommodate all the guests for the wedding ceremony without feeling cramped.
Allocate your budget
When starting to plan a wedding, you first need to plan your budget, allocating a suitable amount to spend on each part of the wedding. Once you've allocated your budget for the venue, it's time to start looking! Shop around and consider a few options before you commit to a final decision.
Ensure you see the venue before booking
Many couples have made the mistake of booking their venue without a scheduled viewing and have been disappointed. Glossy magazines and venue websites portray their venue the best they can, therefore it may not be an accurate or reliable portrayal of the venue and the space that will be available to you. Make sure you first see it in person and ask all the questions you need to ask before you put down a deposit.
Seeing the venue before booking will also help you visualise if your dream wedding could work in that space.
Does the venue allow a traditional Asian wedding set up?
This would be a good question to ask when first visiting your venue to ensure that the traditions and rituals can be openly enjoyed. For example, ensure the venue offers enough space for the number of ceremonies you'd like to hold on your wedding day as well as mentioning the lighting of the sacred fire.
Pay special attention to the decor
The decoration chosen for your venue can completely transform your room. It can take it from ordinary to extraordinary in a matter of hours. Think carefully about how you would like the venue decorated and what would suit the style of venue that you have. It's important to carefully map out where certain ceremonies will be taking place in the venue so that you can decorate accordingly.
Selecting a wedding venue may be one of the hardest decisions you make when it comes to your wedding as it influences all other elements of the big day. It's a crucial piece of the puzzle that will help bring your wedding day together, therefore ensure it ticks all the boxes and it's a perfect fit for your big day.
Read more
Learn more about Asian Wedding Directory
Download our Asian Directory App and find the perfect Asian wedding venues in Birmingham, West Bromwich, West Midlands, Reading, Nottingham, Yorkshire and the Humber, Manchester, London, South, East, North… in any area in UK!
More reading on Asian wedding
More reading on Asian dresses
Featured Asian Wedding Venues
---
Featured Venue
Brympton House Weddings & Events
Wedding/Event Services/Banqueting Suites/Venues
Somerset, South West, England, UK

---
Featured Venue
Rai Function Hall & Catering
Wedding/Event Services/Banqueting Suites/Venues
Birmingham, West Midlands, England, UK

---
Featured Venue
Supreme Banqueting & Conference
Wedding/Event Services/Banqueting Suites/Venues
West Bromwich, West Midlands, England, UK

---
Featured Venue
The Venue
Wedding/Event Services/Banqueting Suites/Venues
Dudley West Midlands England UK

---
Featured Venue
Sapphire Conference and Banqueting Suite
Wedding/Event Services/Banqueting Suites/Venues
Bradford Street Birmingham West Midlands England UK

---
Featured Venue
Bournemouth Highcliff Marriott Hotel
Wedding/Event Services/Banqueting Suites/Venues
West Cliff, Bournemouth, Dorset South West England UK

---
Featured Venue
The Regency Banqueting Suite
Wedding/Event Services/Banqueting Suites/Venues
Birmingham's new and exclusive 5 star luxury venue with up to 1000 seating capacity & fully licensed bar
---
Featured Venue
Studley Castle
Wedding/Event Services/Banqueting Suites/Venues
Nestled within 28 acres of Warwickshire countryside, Studley Castle wedding venue has space to bring even the most extravagant ideas to life
---
Featured Venue
Prestige Suite
Wedding/Event Services/Banqueting Suites/Venues
Prestige Suite redefines the visual aesthetics available for any event whether it is a banquet, wedding, birthday…
Birmingham, West Midlands, UK
---
Featured Venue
Badshah Palace
Wedding/Event Services/Banqueting Suites/Venues
Badshah Palace is a beautiful and historic Grade II listed building centrally located on the A34 Walsall Road in the heart of Birmingham …



Birmingham, West Midlands, UK
---
Find Asian Wedding Venues Reception Halls in mobile Asian Directory App
West Midlands
South West
South East
London
North West
East of England
Yorkshire and the Humber
East Midlands
North East